Registrations are still open for our retreat in November at Temple on the Park, Newtown, Sydney.
We hope you will be able to attend this retreat which has Wangdrak Rinpoche's blessing. Khenpo Tsering Tashi will teach on the Great Treasury of Blessings: a collection of prayers to Guru Rinpoche, which include the Seven Line Prayer and Le'u Dunma, the Prayer in Seven Chapters to Padmakara, the second Buddha. Khenpo will also explain the Guru Yoga practice of the Shower of Blessings and how to do the Tsok (feast offering).
Khenpo Tsering Tashi will give two teachings a day (two hours, with a break in between) morning and afternoon, and lead two meditations, one in the morning before teaching for one hour, and one after the teaching in the afternoon. Our experienced translator, Elizabeth McDougal (Tenzin Chozom), will translate for Khenpo.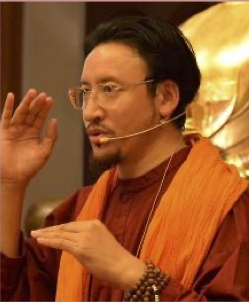 Khenpo Tsering Tashi was born in Sershul Tibet in 1976. He took the vow of an ordained monk at age 16 from Khenpo Trig Gyaltsen in Arid Monastery in Tibet. At the age of 19, he studied the philosophy of Sutra and Tantra under the guidance of Great Khenpo, Khenchen Shoeing Chabdhel Rinpoche for three years. He also received the complete transmission of the Seven treasuries of Longchenpa from Khenpo Sherab, a heart disciple of Khenchen Shoeing Chabdhel Rinpoche. Due to his profound experience and knowledge in Buddhist philosophy, he was conferred the title of "Khenpo" by Khenchen Pema Tsewang.

Khenpo la was imprisoned in 2003 for two years after Chinese officials claimed a book he wrote titled "The Future of Tibet" was against Chinese policy. After he was released in 2006, Khenpo left Tibet for India and went to receive an audience with His Holiness The Dalai Lama. He was later appointed by the office of His Holiness The Dalai Lama to study Chinese language in Taiwan.
Where: Temple on the Park – 158 Australia St, Newtown 2042
When: Thursday 3 November 6pm; Friday 4th – Tuesday 8th November 9.30am – 5pm
Cost: Full retreat: $300; Weekend: $150; Zoom retreat: $140; Zoom weekend: $60
Registration
We encourage everyone to take this opportunity to attend these special teachings in person, but for those unable to attend, it will be offered on Zoom. For those who cannot attend the full retreat, it is possible to attend the weekend only.
Please register by emailing gebchakretreats@gmail.com stating your name and phone number, and whether you will attend in person or by Zoom, and the full retreat or weekend only.
Retreat payment details.
Full retreat: $300 ; Weekend retreat: $150; Zoom full retreat: $140; Zoom weekend retreat: $60
Account: Gebchak Retreats
BSB: 633 000
Number: 164 459 224
Reference: K22 retreat