Cultivating Shamatha on the Ground of Buddha Nature, 21 to 27 November 2014
The Blue Mountains offered an inspiring setting for the first of the several gradual meditation retreats that Wangdrak Rinpoche will lead in Australia. Retreatants all commented on how warm and joyful the gathering was and were moved by the power and clarity of Rinpoche's teachings.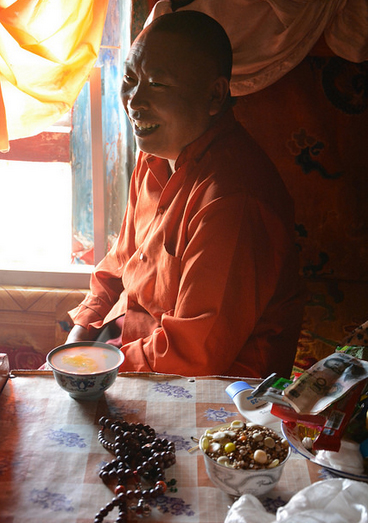 In 2014 Gebchak Wangdrak Rinpoche began a series of retreats following the practice style of the Gebchak tradition. This was the first retreat Wangdrak Rinpoche led in Australia. This year the retreat teachings introduced the gradual stages of meditation on the Dzogchen path, beginning with an understanding of Buddha nature. The retreat practice was focused on Shamatha with and without support.
If students wish to continue with these retreats, one must commit to completing the Vajrayana preliminary practices (Ngondro) of any Tibetan Buddhist lineage, if one has not already completed them.
"Without Ngondro, the main practice will not resist deluded thoughts, it will be carried away by circumstances; it will be unstable and will not reach its ultimate point." – HH Dilgo Khyentse Rinpoche.