Gebchak Rigpa Har-Sey is an Australian based organization whose work is to preserve Tibet's experiential Buddhist culture. It is inspired by the yogic tradition of Gebchak Nunnery in Nangchen, which is the only autonomous female monastic lineage in Tibet. The Gebchak nuns are renowned for their compassion and insight, and for their commitment to lifelong Vajrayāna retreat.
In Australia this takes the form of annual meditation retreats and monthly practice days, guided by the experiential instructions of Gebchak Wangdrak Rinpoche. As a Khenpo and Lama of Gebchak Nunnery, Wangdrak Rinpoche is a wonderful representative of Buddhism in Tibet whose warmth and compassion is a reminder of the inner Dharma that transcends all change. His way of teaching reflects the Gebchak lineage style of profound experiential understanding.
In Nangchen, Eastern Tibet, the work of Gebchak Rigpa Har-Sey is to support and participate in a retreat hermitage built on the land of Nangchen's great founding yogin, Tishi Repa (ca. 1164-1236). Every second year a group of Australians visits this hermitage for teachings and meditation on the hills of this remarkable landscape. See the Nangchen Retreats page for more information.
Please see the Australian Teachings page and Retreats page for Rinpoche's forthcoming 2017 visit.
"My prayer is to preserve and protect this female lineage of Gebchak Gonpa. My request to people throughout the world is to pray for the Gebchak lineage to be entirely preserved in the future."
– Wangdrak Rinpoche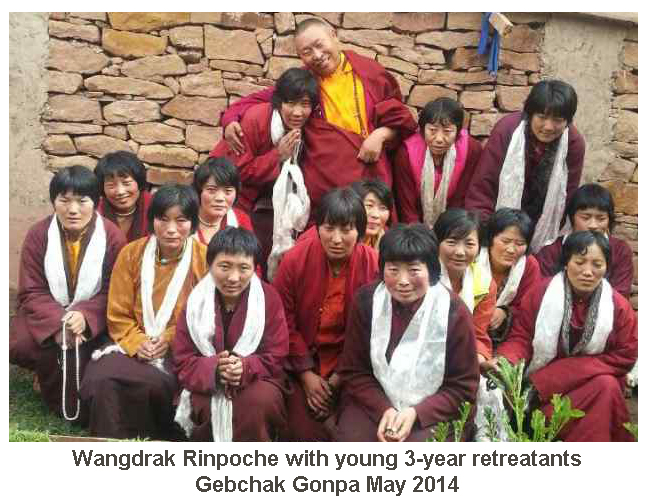 Gebchak Rigpa Har-Sey also supports the food & healthcare of the Gebchak nuns, and 22 orphans from the Yushu earthquake who are under Wangdrak Rinpoche's care. Please see the Donate page for details on how you can contribute to these projects.
The name Gebchak Rigpa Har-Sey is inspired by the spontaneous enlightenment of Gebchak Nunnery's Ani Lama Sherab Zangmo (c. 1922-2008). Often referred to as "The Great Yogini of Gebchak Gonpa", Sherab Zangmo was famed among the lamas in Eastern Tibet for her high realization. Her simple yet profound meditation view is characteristic of the Gebchak lineage and the teachings of its nuns and lamas.